Windows 10 mobile ที่คาดว่าอีกไม่นานนักก็จะออกมาให้ใช้งานกันกับเครื่องรุ่นใหม่ๆ ที่ประกาศออกมาอย่างเป็นทางการ อาทิเช่น Lumia 640, 640XL ซึ่งหากเป็นรุ่นอื่นๆ อาจจะต้องรอไม่รู้ว่าเมื่อใหร่ แต่ทว่างานนี้คุกแตกเรียบร้อยแล้ว สามารถนำมาลง Lumia รุ่นเก่าๆ รวมถึง Samsung Windows Phone รุ่นเก๋าก็ยังไหว จากแหล่งเดิม xda-developer จ้า
ส่วนขั้นตอนการทำตามนี้เลย
1. Turn "ON" Developer Unlock Mode. (Go to Settings> Update & Security> For Developers)
2. Download "Root Tool.xap" from attachments and deploy It.
Recommended:
For Lumia:
Open "vcReg" Tool.
Hit the Application Bar and select "Templates".
Here will see two options, Interop/Capability Unlock and "Full File System" Access through the MTP Protocol.
Check your options, and click "Apply".
You are Done !
Custom:
Go to Device Specific Registry Editor Tool.
Select "HKEY_LOCAL_MACHINE"
Write default values.
(For Lumia)
"SOFTWARE\Microsoft\DeviceReg\Install"
"MaxUnsignedApps"=DWORD:7FFFFFFF
(For Samsung)
"SOFTWARE\Microsoft\DeviceReg\Install"
"MaxUnsignedApps"=DWORD:2147483647
Preventing Unlock:
"SOFTWARE\Microsoft\DeviceReg"
"PortalUrlInt"="http://127.0.0.1"
"PortalUrlProd"="http://127.0.0.1"
Unlocking NEW Capability Engine:
Write these values:
[HKEY_LOCAL_MACHINE\SOFTWARE\Microsoft\SecurityMana ger\AuthorizationRules\Capability\capabilityRule_D evUnlock]
"CapabilityClass"="capabilityClass_DevUnlock_Inter nal"
"PrincipalClass"="principalClass_DevUnlock_Interna l"
มีวีดีโอทดสอบบน Lumia 920 เรียบร้อยแล้วตามนี้เลย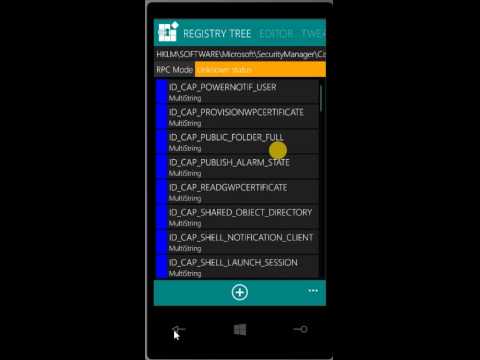 ซึ่งงานนี้ใครที่ยังมีเครื่อง Windows Phone รุ่นเก่าๆ ล่ะก็ เตรียมขุดขึ้นมาอัพเกรดเป็น Windows 10 mobile กันได้เลยครับผม
อ้างอิง WMPU
Comments
comments